Mix up this easy to make Santa's Magic Reindeer Food Recipe. sprinkle outside and lead Santa's sleigh safely to your home. Free Printable include.
Santa's Magic Reindeer Food Recipe and Printable
On Christmas eve, prepare for Santa's arrival. Your kids will love sprinkling their bags of little bags of Santa's Magic Reindeer Food in the yard or on the patio. Have them make a trail so the reindeer will be guided right to your door. By morning, squirrels and birds will have helped nibble up the food creating a magical moment for young believers.
The recipe is simple and easy, but the memories of this Christmas activity will last forever!
I made the recipe simple for one child per bag. This way each child can mix their very own Santa's Magic Reindeer Food as part of the fun.
Directions
For each packet of Santa's Magic Reindeer Food
1/2 cup of old-fashioned oats

1 tsp. of red or green edible glitter

1 tsp of bird seeds (optional)

Mix everything together in a small bowl and scoop into cell bags.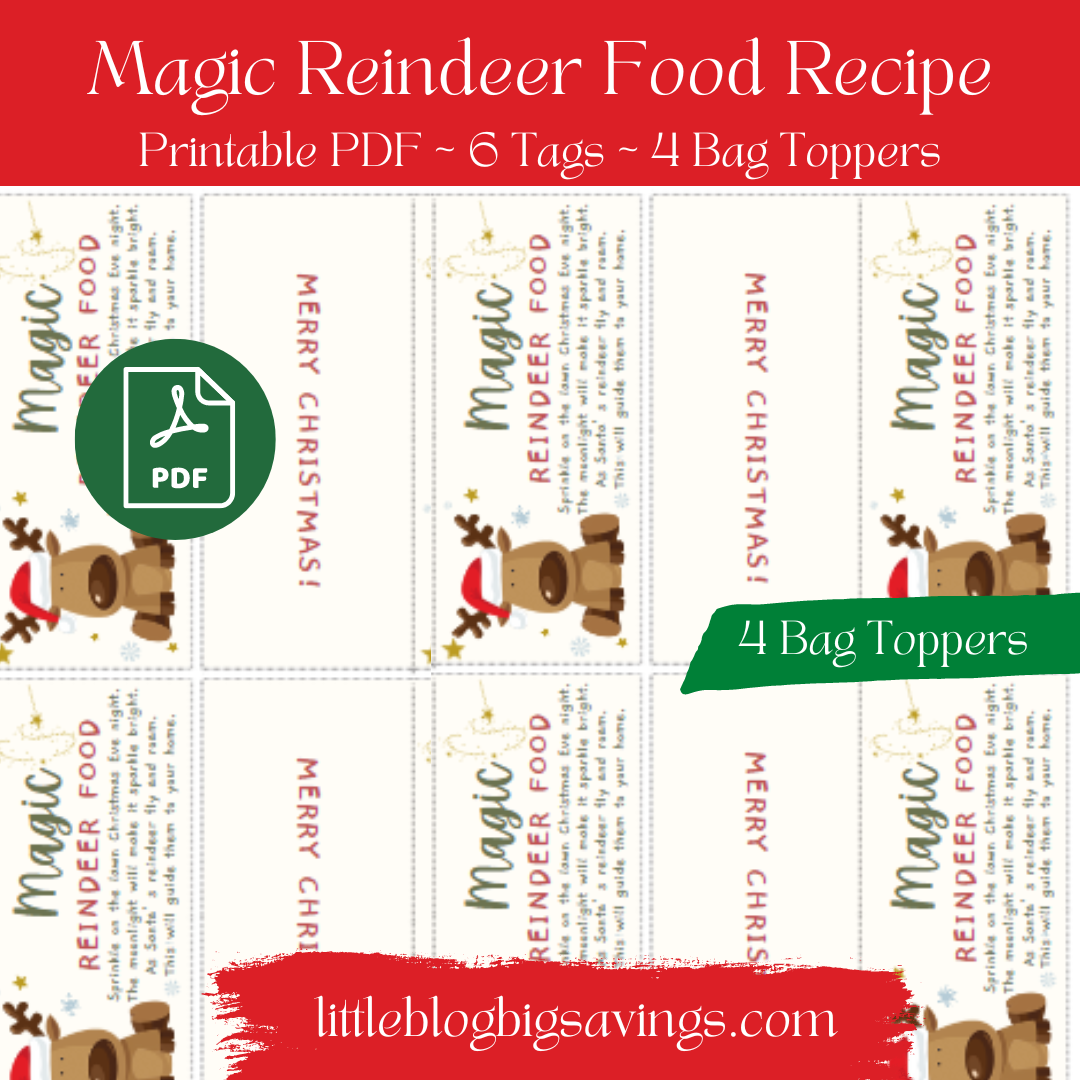 Free printable includes recipe instructions for you to print at home.
Each print includes 3 pages.
Page 1: Recipe/Instructions
Page 2: (6) 2.5" x 4" Tags
Page 3 (4) 4.5"x 2" Foldable Bag Toppers
Each tag and topper read
Sprinkle on the lawn Christmas Eve night. The moonlight will make it sparkle bright. As Santa's reindeer fly and roam. This will guide them to your home.
You can attach your tags with ribbon or tape/staple the bag toppers to treat bags depending on what you have on hand.
For best results, print on cardstock paper but standard 8.5" x 11" printer paper works just fine too.
Enjoy.
Looking for fun holiday treat recipes? Try one of these.