Little Blog Big Savings may earn a small commission at no cost to you via affiliate links including Amazon. All deals within this site are Limited Time Offers and are subject to change without notice. Affiliate Disclosure
This fun Halloween Dunkaroo Dip will quickly become a go-to Halloween recipe for any of your parties and holiday celebrations.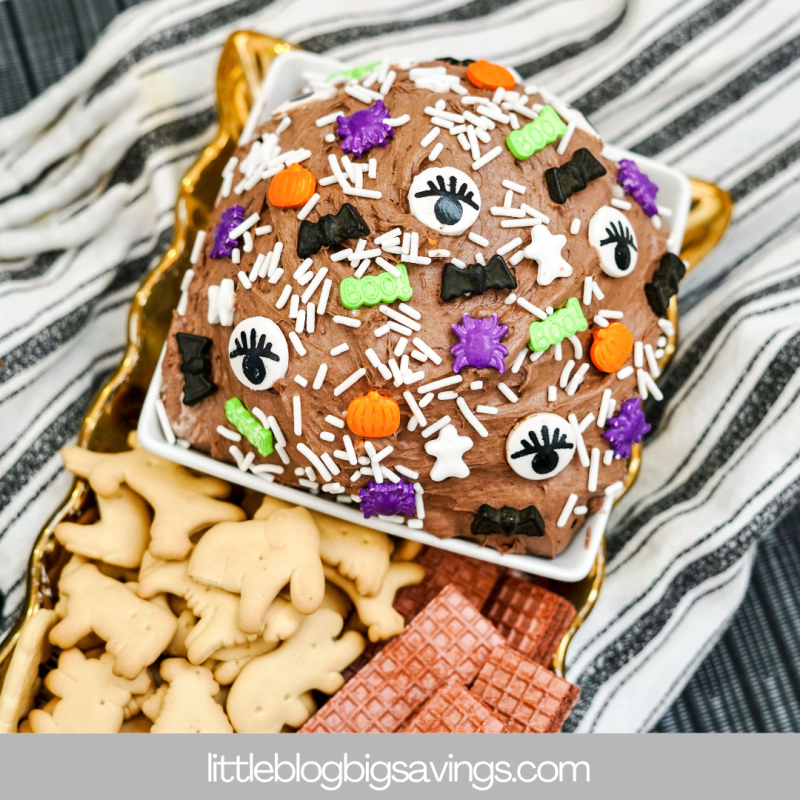 Serve up at your next Halloween gathering for a great conversational piece and delicious treat.
What is cake batter dip?
Cake Batter Dip is a simple sweet dip recipe that makes use of a boxed cake mix. It's a delicious mixture of cake mix, whipped topping and cream cheese resulting in a light and fluffy dip – perfect to serve with crackers or even fruit.
It's a cinch to make and the flavor and coloring combinations with all the different cake mix options available!
What goes well with cake batter dip?
Any cookies will go well with this dip although if you want to have some fun, think of using some chocolate animal crackers.
Tips
With any Dunkaroo dip, it's best to sift the cake mix to help get rid of any large clumps that will prove tricky to beat out.
If you want your dip to be a different color from what I've used (like orange or even a spooky purple) then use a white cake mix instead of the yellow. If you use yellow cake mix while trying for a different color, your coloring may be a little off when combining your food coloring.
Ingredients
Directions
In a large mixing bowl heat the Halloween Funfetti cake mix for 1 minute 30 seconds in the microwave to heat treat the flour.
Then combine whipped topping, cream cheese, sprinkles & milk with the heated Halloween Funfetti cake mix.
Mix well.
Transfer to a serving dish and cover in sprinkles.
Serve with cookies and dunk away!
Perfect for any Halloween party especially for younger children when less fright is required instead of spooky ghouls. Serve up this delicious snack for your kid's next season.
Little Blog Big Savings Comments
We love comments from readers, so chime in with your thoughts below! We do our best to keep this blog upbeat and encouraging, so please keep your comments cordial and kind