Little Blog Big Savings may earn a small commission at no cost to you via affiliate links including Amazon. All deals within this site are Limited Time Offers and are subject to change without notice. Affiliate Disclosure
You can never go wrong with a classic recipe like this Cherry Fluff salad. A deliciously sweet and fruity side dish for most occasions.
There are many different variations for a dessert fluff but this one is my particular favorite. This dish only takes about 5 minutes to prepare and taste amazing.
What is Cherry Fluff?
Cherry Fluff is a Jell-O salad that has been around, surprisingly, since the 1950s. It often includes cherry jello, whipped cream, and cottage cheese. It's popularly served during the summer at BBQs, church gatherings, potlucks, etc.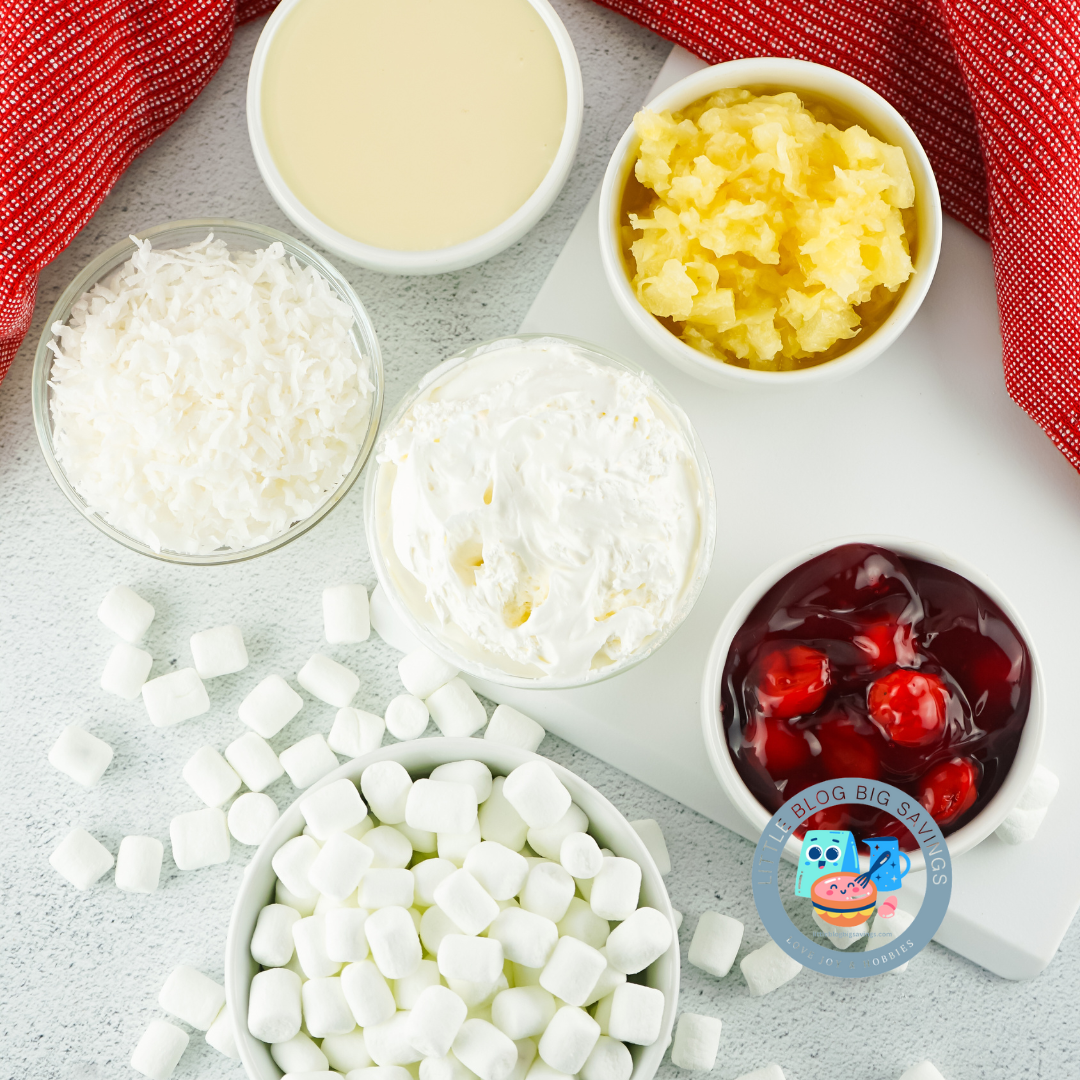 1 Can Cherry Pie Filling (21 ounces)
1 Can Crushed Pineapple, drained (20 ounces)
1 Tub Cool Whip (8 ounces)
7 Ounces Sweetened Condensed Milk
1 ½ Cups Mini Marshmallows
1 Cup Sweetened Shredded Coconut
Combine all ingredients in a large mixing bowl, starting with the whipped cream followed by the cherry pie filling.
Mix well and serve immediately or cover and store in the fridge until it's ready to be served.
This recipe has quite a few variations it's obtained over the many years it's been around. Some people like to use maraschino cherries instead of pie filling. Other add-ins often include sour cream, cottage cheese, chopped pecans, etc.
Be sure to cover your salad with plastic wrap when storing in the fridge so it doesn't dry out. Store for up to a week. Do not freeze.
When storing it in the fridge, you'll want to give it a good fold over a few times, just to distribute the moisture that has usually gone to the top.
After being stored a few days, the marshmallows will absorb the liquid and soften, so don't be alarmed if this happens. It's normal and actually results in a bolder flavor, in my opinion.
Is Cherry Fluff a dessert or salad?
There is a bit of fun controversy around this question. Cherry Fluff has "salad" added in the name most of the time. However, it's also considered a dessert.
Let's be clear, fluff salad recipes don't match the Merriam Webster definition of "salad." So, in the specific sense of the word, it's not a salad. It's just a sweet side dish or dessert, however you decide to serve it and eat it.
Can you make Cherry Fluff ahead of Time?
Yes, you can make fluff salad in advance! In fact, I highly suggest in order to get the best flavor out of the dish. This recipe can easily be prepared and stored overnight in the refrigerator. The cherries might provide additional moisture to this salad, so just stir it in again before serving.
You can swap out the cherry Jell-o for another flavor to switch things up or even match a theme. If you do this, you'll want to swap out the cherries and use the fruit that matches the Jell-o flavor like Orange Fluff Recipe.
I guarantee you this Cherry Fluff recipe will be the star of your next dinner party, potluck, or family dinner!