Get ready for Easter with these Dipped Oreo Carrot Cake Cookies.
Dipped Oreo Carrot Cake Cookies
This easy idea is more of a tutorial and less of an actual recipe but is still something you may need guidance to create. Decorate with the icing carrots, like we did, or simply add your favorite holiday sprinkles.
Place 5 squares of White Almond Bark and the 1/4 cup of white baking chips in a microwave safe bowl.
Melt almond bark mix in microwave for 1 minute and then stir.
Continue with 30 second intervals in the microwave until chocolate mix is a liquid. Stir mixture in between.
Once your almond bark mix is melted, grab your oreo cookies one by one and dip in the almond bark mix.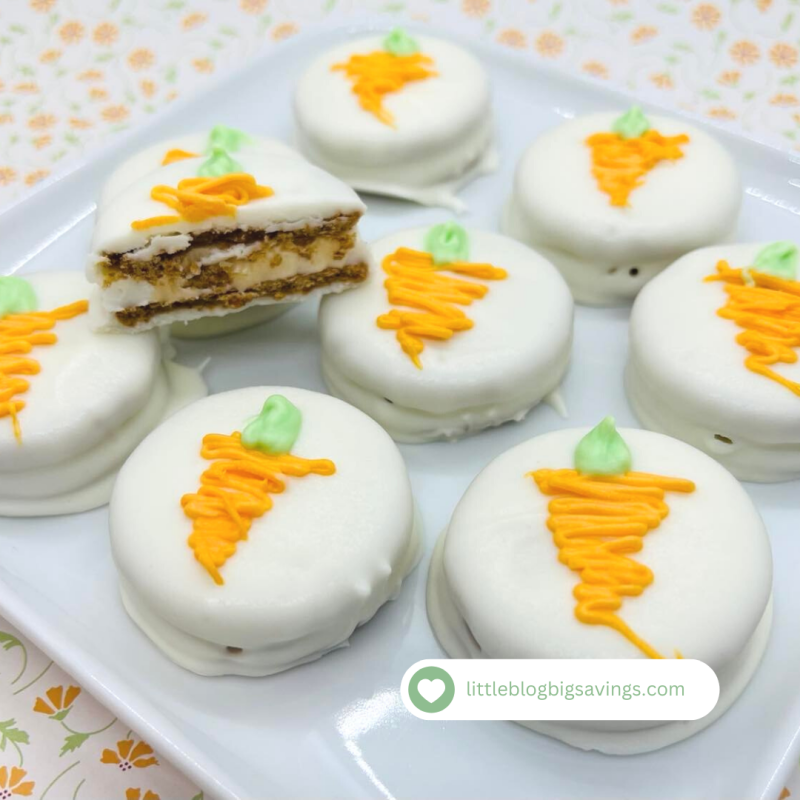 I use a fork to flip it back and forth and to lift out of the chocolate onto a parchment paper lined cookie sheet.
With the leftover almond bark mix, divide into two small ziplock bags. You will add a few drops of orange food coloring to one and a few drops of green food coloring to the other. These will be your pipping bags.
Once mix, Press all the almond mix into one corner of the bag and clip the tip with a pair of scissors. Do not cut much. You want to be able to draw the carrot lines with thin lines.
Draw on your carrot with lines going back and forth. Larger at the top, smaller at the bottom.
Top your carrots with a green almond bark mix.
Allow the cookies to set and dry for approximately 1 hour.
Serve and enjoy!
They are so easy to make that my grandson helped decorate the carrots. Next time you want to keep the kids busy for an hour or two, grab a bag of Oreo cookies and start dipping.