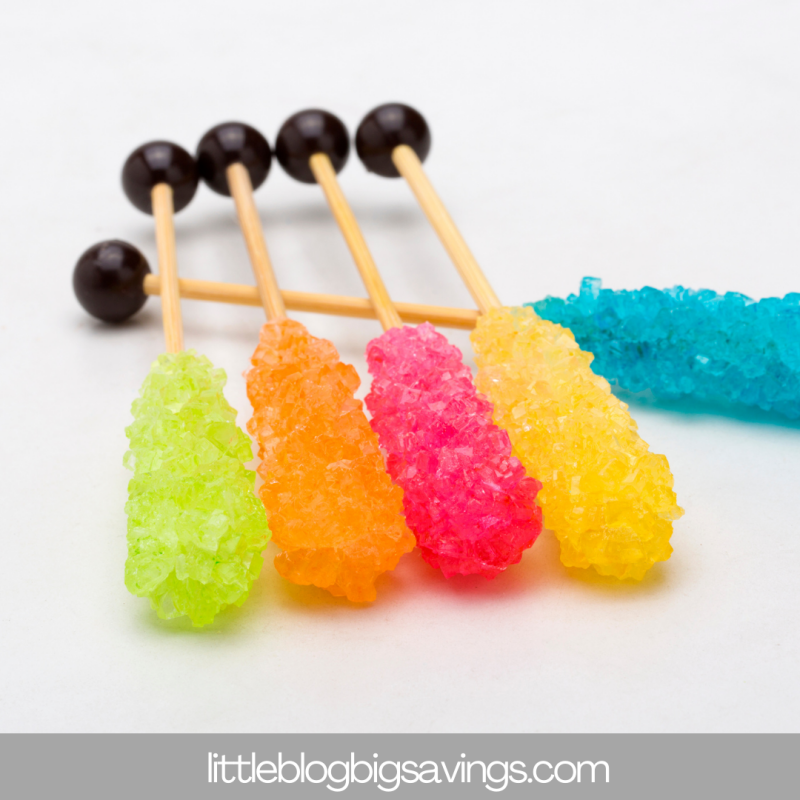 Rock candy is one of the easiest homemade candies to make, but it does take a bit of time. Making Rock Candy can seem more like an experiment than a recipe, so it is the perfect DIY Project for kids.
Soak sticks briefly in water and roll in sugar to coat. Allow to dry completely.

Add warm water to a large saucepan. Stir in sugar until no more will dissolve.

Place the saucepan on the stove and bring to a low boil over medium heat. Add remaining sugar and any additional sugar as needed until you reach a fully saturated solution, and no more sugar will dissolve. Allow to cool for 20-30 minutes.

Carefully pour the mixture into the mason jars and add food coloring and/or candy flavoring as desired.

Add two sugared sticks to each jar, making sure that the sticks don't touch the jar or each other. Use clothespins to hold the sticks in place as needed.

Place the jars in a warm and undisturbed location. Wait for 5-10 days until crystals are fully formed. Remove the sticks from the jar and enjoy.

Place in a ziplock bag for storage or wrap individually in treat bags.