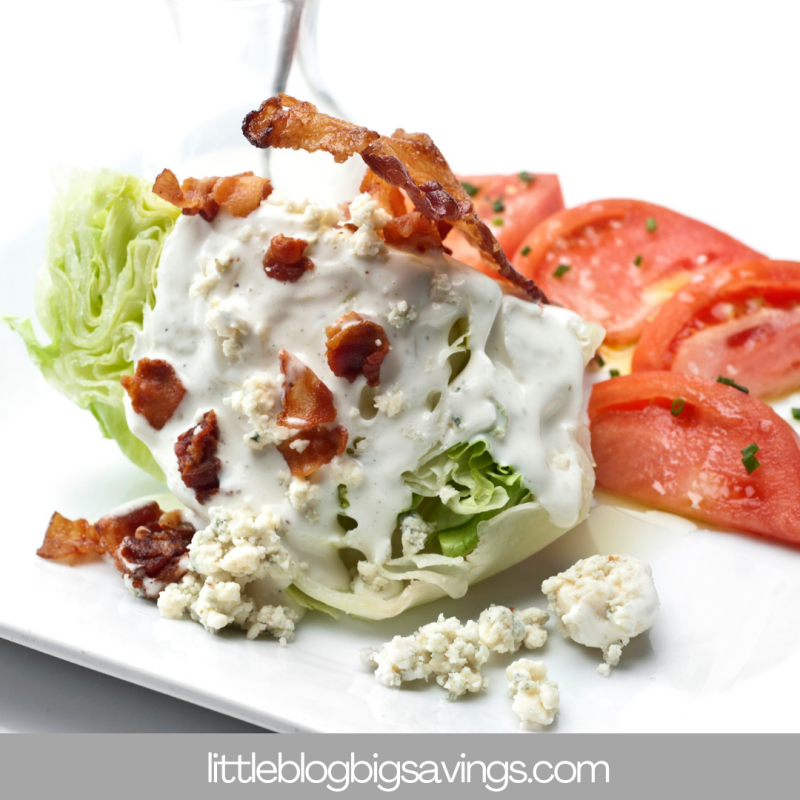 This simple salad is a wedge one-quarter head of iceberg lettuce and topped with blue cheese dressing, crispy bacon, tomatoes and blue cheese crumbles.
Ingredients
Head of Iceberg Lettuce

Bacon Crumbles

Blue Cheese Dressing

Blue Cheese Crumbles

Diced Tomatoes

Salt and Pepper (Optional)
Directions
Slice Head of Iceberg Lettuce into four wedges and removing the core

Top the wedge with bacon crumbles, blue cheese dressing and blue cheese crumbles, and diced tomatoes. Salt and Pepper to taste (optional)
Serve on the side (optional)
Sliced Tomatoes

Sliced Avocados

Sliced Onions

Croutons or Bread Roll
I can tell you that making your own Blue Cheese Dressing from scratch is another great recipe because we all know it is, but this is meant to be simple and quick so store-bought Blue Cheese Dressing works just fine for me. Besides, my favorite part of this Classic Wedge Salad is the Blue Cheese Crumbles themselves. Yum!

Many people will fry up their own bacon, but I am going for quick which means not messing up my stove or a pan, so I opt for Hormel Black Lable Bacon, Fully Cooked when I am loading up my grocery basket