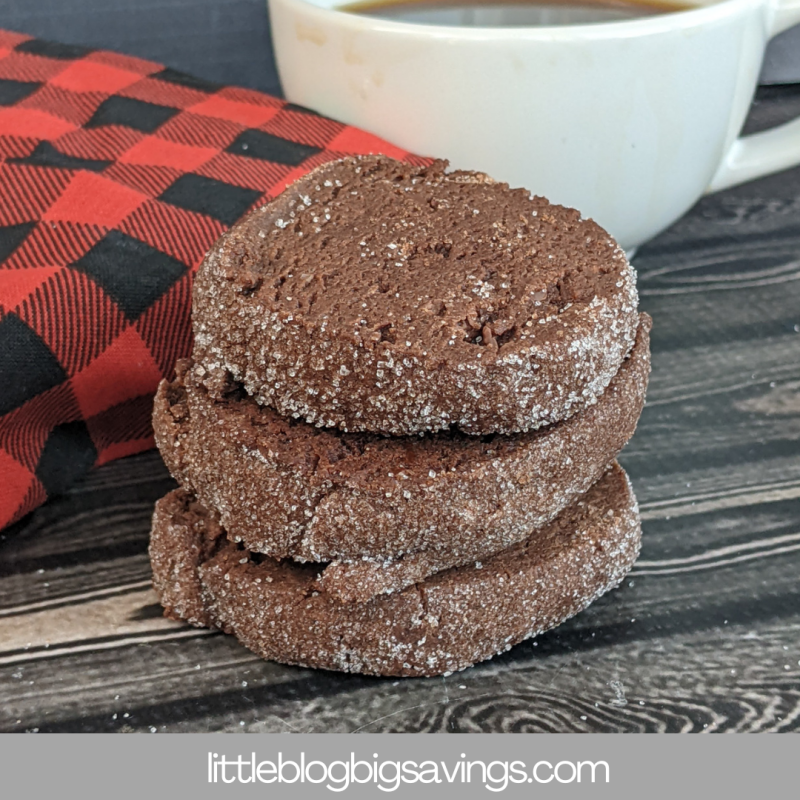 You will love to add this Salted Chocolate Sable Cookies to your baking list. These sables will be a tasty addition to your cookie exchange tin this season.
Salted Chocolate Sable Cookies
Most of the time, the main flavor of a sable cookie is butter, but there is no reason you cannot add additional flavors like Chocolate! Give it a try. I know you will love these Salted Chocolate Sable Cookies.
Makes about 24 cookies
Ingredients
Directions
Beat butter and sugar until it looks fluffy, about 2 minutes.

Add vanilla and egg and beat until it is creamy in appearance, about 90 seconds.

Add salt and baking soda, cocoa powder. Mix until well blended.

Blend in flour until the dough has a nice, uniform brown color.

Add the chopped chocolate to the dough and mix for 30 seconds.

Divide the dough in half.

Place the dough into a large food storage bag or use plastic wrap to form a log of dough. Seal and repeat with the other half.

Place the dough in the freezer for 25 minutes.

Preheat the oven to 325 degrees.

Line cookie sheets with parchment paper or use baking mats.

Roll the logs of dough in the granulated sugar you sat aside.

Slice the logs of cookie dough about a ½" thick.

Place the slices about 2" apart on the cookie sheets and bake for 10-12 minutes.

Allow to cool on the cookie sheets for 5 minutes before removing.

Store leftovers in an airtight container.
I highly recommend using salted butter when baking these Salted Chocolate Sable Cookies instead of trying to add additional coarse salt. The cookie is intended to be saltier than your average cookie to satisfy your sweet and savory cravings.
What is the difference between Sable and shortbread?
Sable means sandy referring to a crumbly texture. Shortbread can be the same but also have more of a sugar cookie-type texture depending on how it's made.
Does it help to refrigerate cookie dough before baking?
Chilling this Salted Chocolate Sable Cookies dough before baking solidifies the fat in the cookies. As the cookies bake, the fat in the chilled cookie dough takes longer to melt than room-temperature fat. And the longer the fat remains solid, the less cookies spread.
How do you store cookie dough?
Chill the Salted Chocolate Sable Cookies dough balls in the refrigerator for 1 hour. Place the solid and cold cookie dough balls into a labeled zipped-top bag– large or small depending on how much dough you have. Label the bag with the month and the baking temperature and place the bag in the freezer. Freeze cookie dough for up to 3 months